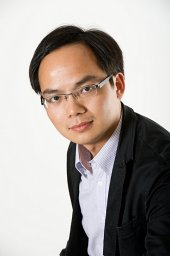 Prof. Yu-Wang Chen
The University of Manchester, UK

Title:
Data, Knowledge and Decision Analytics

Abstract:
Decision analytics allow individuals and organizations to transform data and aggregate knowledge to support informed decision making. However, real-world decision making problems are often characterized by multiple sources of data and different types of complex information. In this talk, I will briefly introduce my research on decision analytics in the context of data and uncertain knowledge. Illustrative examples will be used from the fields of engineering and management.
Biography:

Yu-Wang Chen is Professor in Decision Sciences and Business Analytics at Alliance Manchester Business School (AMBS), The University of Manchester. Prior to joining AMBS as a Postdoctoral Research Associate, he worked briefly as a Postdoctoral Research Fellow at the Department of Computer Science, Hong Kong Baptist University. He received the PhD degree in Control and System Engineering from Shanghai Jiao Tong University.
His research focuses primarily on decision sciences and data analytics, including their applications to risk analysis, supply chain management, consumer preference prediction, healthcare decision support, etc. He has published more than 60 research articles in leading journals, such as European Journal of Operational Research, Environment and Planning A: Economy and Space, Computers & Operation Research, Information Sciences, Knowledge-Based Systems and IEEE Transactions on Systems, 5 books or book chapters and 20+ publications in conference proceedings.
He has been awarded as PI/Joint PI/Co-I a number of research or industry projects by Innovate UK, ERDF, EPSRC, NSFC, etc., with a total budget of over 1 million pounds. He currently serves as Associate Editor of the Decision Analytics Journal, Academic Editor of the Complexity Journal and Editorial Board Member of Web Intelligence: An International Journal and International Journal of Productivity and Performance Management (Emerald). He is a member of EPSRC Peer Review College, International Society of Multiple Criteria Decision Making, EURO Multiple Criteria Decision Aiding (MCDA) Working Groups, and the Chinese Automation and Computing Society in UK.
He has successfully coordinated and taught across a broad portfolio of course units at all different undergraduate and postgraduate levels at Alliance Manchester Business School. He currently acts as the Programme Director (2015-2018 & 2020-present) for the MSc Business Analytics programme (2021 QS Ranking: 2nd in the UK & 10th in the world).